~Emily is 32 weeks old~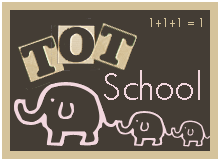 After taking about a month off from school we started back this past week. The girls were very excited and so was I knowing that I had 6 weeks planned:) I added an extra activity for Emily so instead of having 3 boxes to choose from each day she has 4. Here is what Emily did this week:
Magnetic Pom Pom's. I can't remember where I printed these sheets from!! I thought I printed them from Home Grown Hearts but I can't find them but I will keep looking!
Window Clings (Both girls love these)
Match the small picture to the large picture using a magnifying glass. She loved this activity!!! I printed it from here.
Playing with Handwriting Without Tears letter pieces– She made roads to drive her cars on.
Color Wonder
Putting noodles in a cheese shaker
Playing Candyland – This continues to be one of her favorite games!
Color Matching file folder game printed at Confessions Of A Homeschooler
Pouring Water
AquaDoodle Mat
The big hit of the week was finding alphabet puzzle pieces in the rice. I got the idea from here.
Eye Spy Bottle that she played with for all of one second!
All in all it was a great first week of school! To see more tot school ideas visit 1+1+1=1.