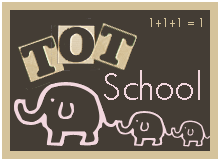 Emily is 20 months old and had her first week of Tot School.
Carisa

from 1+1=1
started Tot School and I couldn't wait for Emily to be old enough to participate. I was trying to do Ellie's preschool activities during Emily's nap but her naps are getting shorter and to be truthful I need that time as a break so she has joined in on the fun. It was a little tricky because Ellie was more interested in Emily's activities and Emily was more interested in Ellie's but I know that we will get the hang of it.
Putting dried
spaghetti
into container
Drawing (one her of favorite activities)
Playing with rice
I didn't get very many pictures because I am still getting the hang of things but Emily also looked at books, built with blocks, and help in the kitchen for the first time.
Circle Time:
We are still mainly following
ABC Jesus Loves Me
but I will throw in a few extra activities and maybe take a few out.
Letter:M (recognizing it and signing it)
Theme: Obey and our M theme was mainly MOMMY but we also talked about music, monsters, and movies.
Bible Verse: John 14:15 If you love me, you will obey my commands (Funny thing or not so funny thing about this is that Ellie had her worst behavior week in awhile. Go figure!!)
We also added in calendar time.
We talked about the days of the week and the weather.
We sang lots of songs, danced to MUSIC, played red light/green light using these little signs to go with our obey theme
and decorated the letter M to look like monsters.
There are still activities that we didn't get to that I had planned but dad surprised us and came home early on Friday so maybe we will get to them next week but maybe not.
Ahhh
, the joys of homeschooling:)