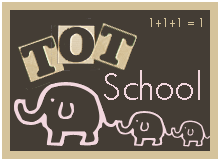 Emily is 26 months old
Emily has officially started tot school:) I was not sure how Ellie and I were going to have school with Emily awake because honestly I never dreamed she would sit and do activities along side Ellie but I tried it and IT WORKED! I put out three workboxes for Emily and she can choose one of those or sit at the desk with us and draw. It only took one day for her to "get" the rules. She knows she can only have out one activity at a time and she has to pick that one up before she can get out another one. There are also activities in Ellie's workboxes that she get to participate in such as crafts, books and writing. Both girls also love it when we include circle time as part of our school day. Here are some of the activities that Emily has been doing during tot school:
Using Leap Pad
Scooping and pouring snow
Putting marbles in suction cups: (She really does wear clothes sometimes :) )
Alphabet puzzle
Magnetic Dress-up
Some of the other activities that I didn't get a picture of were stacking pegs on her peg board
Using dot marker
Pouring water from one little pitcher to another (This was her favorite)
Now all of this being said don't think that she is completely pleasant the whole time. We have had our fair share of time outs during school but it is still way better then I ever thought!!