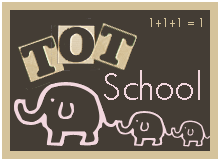 Emily is 26 months old

Here are tot activities from last week.
Transferring water from one side to the other with a sponge.
Lacing Card
Matching colored discs into egg dying bowls
Putting dried spaghetti into container
One of her favorites was using a dot marker on a Veggie Tales coloring page. She laughed every single time she marked it. It was so cute!