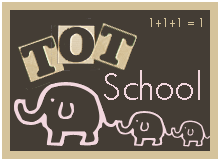 ~Emily is 26 months old~
Tot school went pretty well last week! Here is what we did:
Fitting wooden blocks into the box
Drawing on a chalk board with water. She loved this but I am sure it is because big sister was doing it too.
Playing with colored sand, empty containers and sea shells
Painting with water
Putting apple jacks on a skewer. I got this fun idea from
Activity Mom
.